I'm in a mood lately. I think I must have broken my 'serious' bone. Either that or inadvertently had several "serious" brain cells removed when my designer lopped off a foot of my hair. (My hard-grown hair... up hill, both ways, with no styling implements, in the snow... using Suave)
See what I mean?
Totally frivolous. Barely keeping a straight face. Unable to make a serious commitment or write a persuasive argument. I might as well wear clown shoes and bloomers to work.
So this probably isn't a good time to make a serious blog post. But I'll try!
I read two things this week that prompted me to look at blogging through the filter of an outsider looking in. The first one was a post by Donmillsdiva who took offense (and rightfully so) to a Canadian newspaper article which expropriated portions of her blog content and a previous interview without her knowledge or consent and used it to their own benefit.
Consequently, she's made her position known to the paper and posted beautifully about it... going so far as to create this badge and crusading for respect for bloggers!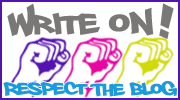 The second message that I saw was picked up by several news outlets in the last week or so... I've seen it on MSN, CNN and Politico. Basically (in my frivolous opinion) Sarah Palin is making efforts to stay in the national spotlight by indicating that some of her issues with the media were caused by "bored, anonymous, pathetic bloggers who lie" and say things about her family.
Neither of the above examples show much respect for bloggers. And you know what...? As a blogger, I'm ambivalent. In the first case, I do feel that we should copyright our material if we don't want it lifted. You can see my Creative Commons Attribution down at the bottom of my left side bar. Basically I don't care that someone uses my material as long as they attribute it to me and don't make a profit from it. If you don't have such limitations posted on your blog, and you care, then it makes sense for you to post your preferences. If someone appropriated my content as they did Don Mills Diva, I would certainly have had the same reaction she did. I mean how hard is it to credit the source???
On the flip side, many of us do make our content available via RSS feed. Once you do that, anyone can import your content in whole. A great example would be Alltop who signed on to my RSS. Hence, their wonderful badge...
It really doesn't have anything to do with the asthmatic quality of my content (snort) so much as providing free content for them. And I get that. No big deal.
As far as the respect part... Blogging is relatively new in the mainstream. While print newspapers fail and on-line media becomes far more prevalent, I think blogs may gain more mainstream status, and thus more respect as media outlets. But only so much as the author provides. (Huffington post is an example of great topical bloggers) But on the flip side... I mean really. I have Chihuahuas in chef hats and fireman hats on my header. I would be shocked if someone took me seriously! The thing is, I write grants during the day. Technical writing is demanding and patterned and regimented and sucks the creativity big time. This is my outlet to be me. Frivolous, funny, insightful, spontaneous, nonsensical, whatever. I don't know that I'm looking for any greater respect than what one person gives another who puts words on a page and sets it out there for all to read! (that may change, but for now.... pfttt!)
Now see... I'm losing my goofiness here and it must be maintained. I'm not going to go much further down the serious path though... I want to go upstairs and get my rainbow socks on!
So on the Sarah Palin thing... Seriously, if you like her, don't read this part. It won't make you happy. In my observation (as a bored, pathetic anonymous blogger), Sarah uses the media much like an exotic dancer uses pasties and a pole. It may not be pretty, but if it gets her the results she wants (national media attention), she'll say what she needs to say. While she may be bright in some areas, painting every single blogger with the same "bored, anonymous, pathetic, liar" brush just isn't a very savvy thing to do. Yes, it gets you media attention, but it also alienates a significant portion of the online population. And ultimately, as a blogger, I think statements like that, in national media, do more to diminish respect for her than respect for me.
Now, where the hell is my orange wig?